Enquiry Now
All information you share while booking is secure and we take all steps to maintain your privacy.
FACILITIES - Hotels with Kitchen in Mysore
Komfort Suites is located in a posh locality, away from the hustle-bustle of the city. Market, tourist spots and transport facilities can be easily accessed. Moreover, the rooms of the hotel are well–equipped with modern amenities and luxurious products, which will surely make your stay luxurious and comfortable, without a second thought.
Deluxe Room

If you are looking for a comfortable stay that matches all your needs and expectation and also falls within your budget, then a deluxe room at the Komfort Suites is indeed the ideal choice for you. All rooms are well equipped with a coffee and tea maker, a contemporary style bathroom, private balcony and Television. Security is maintained through card lock systems and a host of other facilities like gymnasium, green tea lounge and express laundry service can bring you added convenience as well.
Complimentary Wifi
Running Hot & Cold water
Coffee or tea maker
Direct dial telephone
Private balcony
Contemporary toilet
King size bed
Air conditioner
Doors with card lock system for added security
Television with cable connection
Hill View Rooms

If you are looking for a room with a view, this is it. These rooms are strategically located so as to give you a beautiful view of Chamundi Hill. With plush interiors and complimentary wi-fi connectivity, you will not want to leave. You can avail of 24 Hours Room Service and there is 24 hours running water available. Television will ensure that you stay connected with the world outside. Security is maintained through card lock system.
Complimentary Wifi
Running Hot & Cold water
Coffee or tea maker
Direct dial telephone
Private balcony
Contemporary toilet
Queen size bed
Air conditioner
Plush interiors
Doors with card lock system for added security
Television with cable connection
Suites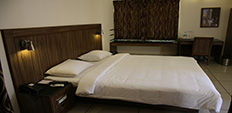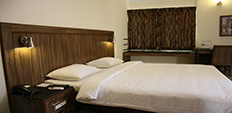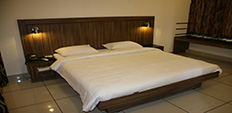 Complimentary Wifi
Running Hot & Cold water
Coffee or tea maker
Direct dial telephone
Private balcony
Contemporary toilet
Queen size bed
Air conditioner
Plush interiors with huge carpet area
Interconnected rooms
Jumbo Suites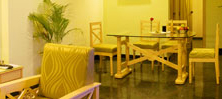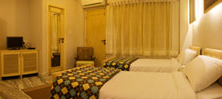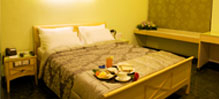 Complimentary Wifi
Running Hot & Cold water
Coffee or tea maker
Direct dial telephone
Private balcony
Contemporary toilet
Sitting area
Sofa cum bed
Dinning table
Bath tub
King size bed room with air conditioner
Living hall with air conditioner
Doors with card lock system for added security
Television with cable connection
Hill View Suites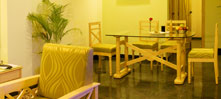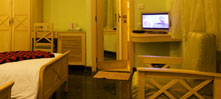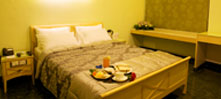 Complimentary Wifi
Running Hot & Cold water
Coffee or tea maker
Direct dial telephone
Private balcony
Contemporary toilet
Sitting area
Sofa cum bed
Dinning table
Bath tub
King size bed room with air conditioner
Living hall with air conditioner
Doors with card lock system for added security
Television with cable connection
Jacuzzi Bathtub to relax